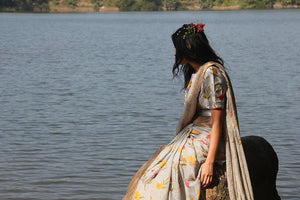 A playful romance of fabric, color and illustration. An escape from the grey structure of the city, to a the soft countryside, amidst cool breeze, tall grasses, wildflowers and clear blue skies.
Sun kissed Marigolds and the fragrant Rajanigandha, delicately adorn soft washed pastel linens, peeking from within the folds of the fabric.
All the florals are hand drawn and then printed. Charming wild flowers, their quiet boldness and the nomadic bougainvillea travel with you, a sweet conversation between the translucency of their petals and of the linens they rest on, as if they were placed there by a gentle gust of wind.
The saris are effortless, casual or dressy, weightless and an absolute pleasure to wear, and to dance in.
 The hand crochet blouses, meant to gently hug the contours of your body, move freely, with you. Fresh and versatile, it is an understated, but spirited celebration of traditional icons. 
As free as the wind and wherever it may take you.