We operate on a made-to-order model, eliminating over production and wastage. Orders are hence made and dispatched in 30 days.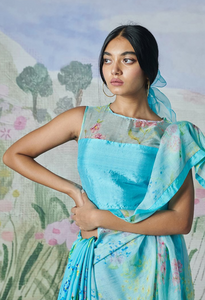 About Us
Craftmanship is at the heart of Nadiya Paar, renowned for its handwoven saris in Linen, handspun Cotton and Mulberry Silk. The label uses heritage techniques such as hand loom weaving and hand stitching to bring to life their designs
read more...
Crafts of nadiya paar
We love to work with rural communities. They co exist beautifully with there surroundings. Our love for craft and travel took us to many hubs such as Murshidabad, Phulia, Banaras, Chanderi, Kutch, Kota, Bhagalpur and Auroville.
We wish to explore more craft areas in coming years.