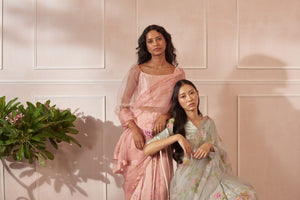 A cosy room, a beautifully set table, freshly brewed tea and macaroons….
This collection of handwoven saris is inspired by the elegant custom of friends meeting for a cup of afternoon tea, this whimsical tradition is centred around creating a relaxed and cosy atmosphere where friends can engage in meaningful conversations and enjoy each other's company, a pause from the busyness of daily life. 
Sheer silk organza, gauzy linen, smocked blouses bring in a sense of fantasy, charm and  elegance. Our weavers have woven fine mulberry silk and organza yarn to create a lustrous light weight sari. And as always our floral prints take the centre stage, the collection features the state flower of Maharashtra Jarul - Queens flower along with Jaswanti - Hibiscus, Hazari Mogra and our new take on Parijaat, Periwinkle and Bougainville. The colour palette is soft and feminine reflecting the delicate ambiance of an afternoon tea with dusty rose, creamy whites, soft lilacs, powdery blues, subtle pistachio green and sandy browns. 
'Tea for Two' is a bouquet of handwoven saris designed to make you feel exquisite. Step into a world of quiet luxury and experience the beauty of tea time through our weaves. We hope that delicate details and harmonious colours will make you feel like lingering longer at the party and pouring a second cup.  We invite you to create memories with 'Tea for Two'….