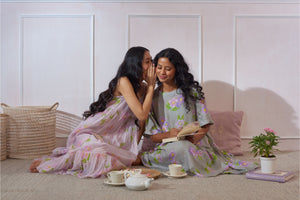 Step into a whimsical world where the charm of postcards, warmth of friendship and enchantment of nature comes together in perfect harmony. In a world brimming with fast-paced interactions and digital connections, the essence of true friendship remains a timeless treasure. Our latest clothing collection, inspired by the very bonds that enrich our lives, is an ode to these cherished connections. "Lily and Rose" encapsulates the spirit of friendship in every stitch and seam, weaving a narrative of shared experiences, unwavering support, and heartfelt camaraderie.

Dresses crafted from the finest handwoven silk, adorned with exquisite floral motifs that embody the essence of nature. With every step, the silk dresses come to life, flowing like petals in a gentle breeze. The lightweight fabrics allows for graceful movement, making these dresses a joy to wear everyday. Whether a day brunch or twirling on a dance floor with your besties, these dresses exude an air of dreamy elegance. Friends walking together, each wearing a complementary outfit that mirrors their individual personalities. One dons a linen blazer, while the other opts for a softer, ethereal dress adorned with subtle floral embroidery. Each piece in the collection is carefully designed to honour the joy of twinning while allowing individuals to express their unique personalities.

The colour palette is reminiscent of faded postcards, vintage pinks, dusty blues and worn greens. This collection becomes a heartfelt expression of the enduring ties that enrich our lives and the world around us.