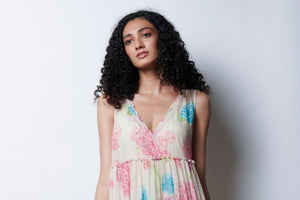 As the shiver of winter fades and makes way for spring, and the cold branches of trees brace themselves for the bloom, nature reminds us of what it's capable of. Of transformation, of change and of offering us new beginnings. Reminding us however cold the winter might be, it must end.
The collection made of handspun cotton yarn, a first for us, carries the essence of the bloom in it. Replete with a colourful palette of prints, that give the effect of floating in water and frozen in time.
Soothing to the eye, and hopeful to the mind, 'Sherbet' will help you find the joy in Spring and float into good times along with it. Good times full of childlike laughter and a whip of nostalgia, full of melting popsicles and a cheerful breeze.
So take the journey with us as we walk into a new season and always remember – "If Winter comes, can spring be far behind."