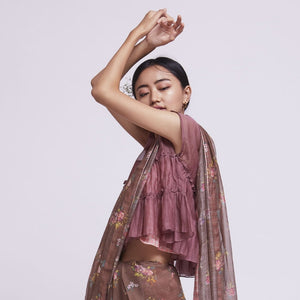 She sparkled in serenity, was drenched in sophistication. Fragrant with the flowers muffled around her in a delightful embrace, she radiated a personality overflowing with enthusiasm. Confident, exuberant, she was always brewing with calmness. Her strong shoulders yet slender wrists adept at any task thrown at her. You couldn't forget her once you got to know her. She was like a tattoo itched in your heart, always with you.

Nadiya Paar's latest collection is for this muse. The one to whom comfort is second skin. The vision to create a collection for her took us to the heart of India. Chanderi village, seated in the corner of Madhya Pradesh is home to a light fabric that's a perfect blend of silk and cotton. Replete with our indelible prints, our saris in this collection made with this versatile fabric ooze modernism and comfort. The statement prints adorning the favourite's like desi gulaab and champa motifs will make you as unforgettable as they make you feel comfortable.

She feels like she's walking on clouds, treading in her super light attire. The motifs reflecting the sun and bursting into kaleidoscopic happiness. Her experimental drape matched to her metamorphic personality. The fabric encompasses all the blues away from any occasion to match her forever mood - Sadabahar.